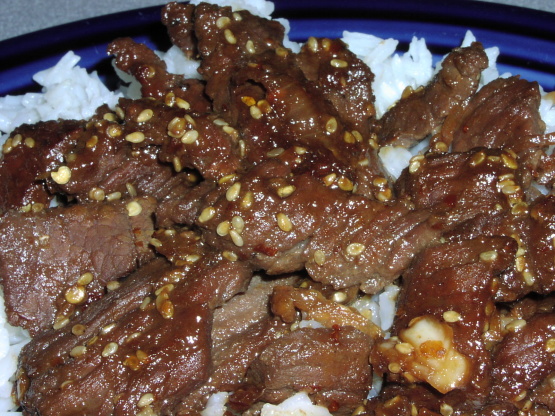 KOREAN STEAK
Stubb's BBQ Restaurant Recipe
2 pounds beef flank steak or sirloin
4 scallions (
green and white parts
)
1/3 cup packed brown sugar
1/4 cup soy sauce
2 tablespoons minced garlic
2 tablespoons minced fresh ginger
4 teaspoons sesame oil
2 tablespoons sesame seeds, toasted (
see note
)
1/4 teaspoon crushed red pepper flakes (
optional
)
1 tablespoon dry sherry
Score of the beef on each side with intersecting cuts 3/4 inch apart to create a diamond pattern, could only lightly into the meat about 1/8 inch deep. Sliced scallions diagonally into 3/4 inch links.
In a baking dish for shallow pan, combine the brown sugar, soy sauce, garlic, ginger, sesame oil and seeds, pepper flakes, and sherry. Stir in the scallions, then add the beef, coating well with the marinade. Cover and marinate in the refrigerator for 8 hours, turning the beep once or twice.
Prepare grill for direct cooking. Grill steaks over high heat, flipping once, long enough to lightly char the scored edges of the meat, making them crispy and crunchy, without overcooking the inside. (
allow 8 to 10 minutes total 4 medium rare.
)
Let steak rest for 10 minutes. If desired boil the marinade for 1 minute or more to use as a sauce. Slice a steak against the grain into thin strips and serve drizzled with the cook marinade.
NOTE: toast sesame seeds and a dry skillet over medium heat, stirring often, until golden brown, about 3 to 5 minutes.