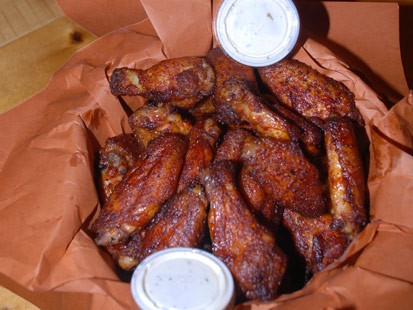 SMOKED BARBECUE WINGS
Hill Country BBQ Restaurant Copycat Recipe
Chicken:
2 pounds chicken wings
Chili Rub (below)
2 pound wood chips, soaked in water
Chili Rub:
1 tablespoon mustard powder
1 tablespoon granulated garlic
1 tablespoon onion powder
1 tablespoon paprika
1 tablespoon cayenne pepper
2 tablespoon chili powder
1 1/2 cup dark brown sugar
1/2 cup sugar in the raw
1/2 cup kosher salt
1/2 cup granulated sugar
In a large bowl, mix all ingredients until well incorporated and store in a air tight container for maximum shelf life. Thoroughly coat chicken wings with chili rub. This can be done up to 1 day in advance.
Place the chips in the smoker tray and set it on the grill, above the hottest part of the grill, trying to obtain a constant temperature of about 275 to 300 degrees, add chips as needed.
Once the chips begin to smoke, place the wings on the opposite side of grill. Turn once during cooking process, at about 45 minutes. Wings should be a nice golden brown; this should take about 1 1/2 hours, or longer if you prefer a darker color.