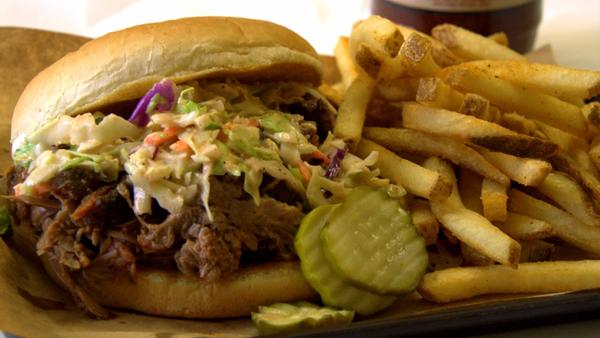 PULLED PORK
Oklahoma Joe's Restaurant Recipe
1/4 cup salt
1/4 cup firmly packed light brown sugar
2 tablespoons sugar
2 tablespoons garlic powder
2 tablespoons onion powder
2 tablespoons Spanish paprika
2 tablespoons chili powder
1 tablespoon celery salt
1 tablespoon freshly ground black pepper
1 teaspoon freshly ground white pepper
1 teaspoon dried thyme
1 (4-7 lb.) bone in pork shoulder (
Boston butt
) roast
1 cup apple juice
1 1/2 cups your favorite BBQ sauce
4 cups oak or hickory wood chips, soaked in water for 30 minutes
Special equipment: spray bottle for apple juice
Combine all the spices in a bowl, mix well. Pat the spice rub onto the meat, making sure to heavily season the entire surface area. Cover or wrap the pork and let it sit at room temperature while getting the smoker or charcoal grill fired up. Do not leave at room temperature for longer than 1 hour. Makes 4 to 6 servings.
The grill is ready when the charcoal has burned to a white ash. If using a grill instead of a smoker, arrange the coals on 1 side of the grill, leaving an area large enough for the pork to cook indirectly with no coals directly underneath the meat.
When the grill has reached 200 to 225 degrees, scatter 1/4 of the wood chips over the coals, close the grate, put the pork on the grill and close the lid.
Maintain a 200 to 225 degree cooking temperature inside the grill, adding coals every 2 hours or as necessary. Add wood chips and spray the pork with apple juice every time you add new coals. Try not to lift the lid of the cooker at any other time.
When the pork reaches an internal temperature of 165 to 170 degrees on an instant read meat thermometer (after about 4 to 5 hours), remove it from the grill and double wrap in aluminum foil to keep the juices from leaking out. Return pork to the grill (
or smoker
) The pork is finished cooking when it pulls apart easily and reaches an internal temperature of 190 to 195 degrees , about another 1 to 2 hours. Let rest for 1 hour, then unwrap the pork butt and pull the bone out. "Pull" the pork by hand, shredding it and discarding any large pieces of fat. Serve with your favorite BBQ sauce.
--------------------------------------------------------------------------------------------------
Oklahoma Joes Bubba Sauce is a vinegar based sauce
with a little hint of tomato that is great on pulled pork sandwiches.
Bubba Sauce:
Oklahoma Joe's Restaurant Copycat Recipe
1 cup water
2/3 cup white vinegar
1/2 cup tomato puree
1 tablespoon finely ground black pepper
1 tablespoon chile powder
2 teaspoons salt
1 1/2 teaspoons cayenne pepper
1 1/2 teaspoons granulated sugar
1 teaspoon garlic powder
Mix all ingredients and shake thoroughly. Makes about 2 cups. No refrigeration require. Just shake before using.
------------------------------------------------------------------------------------------------------
GOT LEFTOVERS?
The Pig Salad at Oklahoma Joe's has warm pulled pork with Bubba's Sauce on top.